Winter Riding Tips
Boarding in Areas with Ice and Snowbanks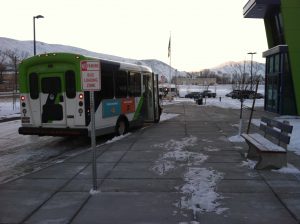 In areas covered with snow and ice or blocked by a snow bank, please wait back on the sidewalk, at a cleared driveway or corner.
DO NOT stand in the street or wait at the top of a snow bank. Snow and ice in the street or on a snow bank can be slippery and unsafe.
When the bus approaches, mirrors can also be a hazard as they extend from the bus.
If your stop is in the middle of steep hill, please walk to the closest bus stop at the bottom or the top of the hill. During slick street conditions, this is the best place to safely board.
Be Careful when Boarding
When the bus approaches, wave to the driver to signal him to stop.
Even if a snow bank is blocking access to the street, please remain on the sidewalk. Drivers will be looking for passengers waiting in safe locations.
Wait until the bus has come to a complete stop before trying to board.
For added safety, the bus will stop approximately 4 feet from a snow bank or snow-covered curb. This allows passengers enough room to step into the street, then up onto the bus.
Melting snow and ice can make bus floors slippery. Make sure to hold handrails when boarding, walking or standing inside the bus.
When reaching your destination, the driver will stop at the bus stop or the nearest safe location.
Additional Riding Info Tips
When riding at night, hold a flashlight so that the driver can see you waiting at a stop.
If possible, wear reflective apparel or safety bands on your coat or other clothing.
Reflective clothing is always recommended for children traveling at night.
During poor weather, drivers maintain schedules as traffic and weather conditions safely allow. If the weather is extreme, buses may fall behind.
During bad weather, PRT encourages people to take an earlier trip. Arrive at bus stops at regularly scheduled times, but please be prepared for a possible wait.
Weather and traffic can cause delays to any individual bus at any time. Rest assured, drivers are doing their best to reach your stop as soon as possible.
Stay Informed
Stay up to date before you travel with your favorite weather website such as the National Weather Service (www.weather.gov) or local radio/TV stations for possible inclement weather service information.
Feel free to contact PRT for any possible service delays at 208-234-ABUS (2287).