Rider Alerts
INDEPENDENCE DAY
PRT will be closed with no services in observance of Independence Day on Monday, July 4, 2022. Salt Lake Express buses can be met at the Transit Center.
SUMMER YOUTH PASS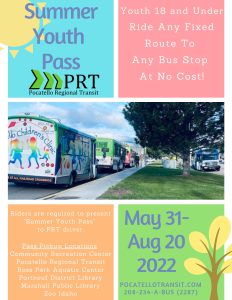 PRT's Summer Youth Pass has returned! Youth 18 and under may ride any fixed route to any bus stop at no cost when they use the free pass. Passes are available at the following locations:
Pocatello Regional Transit  |  5815 South 5th Avenue
Community Recreation Center  |  144 Wilson Avenue
Marshal Public Library  |  113 South Garfield Avenue
Portneuf District Library  |  5210 Stuart Avenue
Ross Park Aquatic Center  |  2901 South 2nd Avenue
Zoo Idaho  |  2900 South 2nd Avenue
For more information, give PRT a call at 209-234-2287. We look forward to seeing you on the bus!
ROUTE D SUMMER SCHEDULE
Route D will begin a "Summer Schedule," which will discontinue service to ISU Bartz Field on the Idaho State University Campus and instead stop at the Lower Ross Park for access to the Aquatic Complex, Zoo Idaho, and the Skate Park. NO other routes will be affected. The regular D route will resume service on August 22, 2022. The scheduled time-points will be as follows from 7:26am to 4:26pm, Monday–Friday.
| | |
| --- | --- |
| PRT Transit Center | :26 |
| Sheriff's Dept. | :32 |
| 5th at Jason | :35 |
| ISU Health Center | :40 |
| ISU Student Union | :42 (new) |
| Benton at Albertsons | :45 (new) |
| Bonneville at U.P. | :47 (new) |
| Marshall Library | :55 (new) |
| Main at Day | :59 (new) |
| Westwood Mall | :02 (new) |
| Maple at McKinley | :04 (new) |
| 6th at Sublette | :07 (new) |
| ISU Student Union | :13 (new) |
| Ross Park Aquatic | :19 |